HOW TO CHOOSE A WALKING BOOT?
At Columbia we're dedicated to offering our expert advice to make it easier for you to choose the walking boot that best suits your needs.
WHAT'S THE DIFFERENCE BETWEEN LOW, MID AND HIGH BOOTS?
It is overall a question of personal comfort.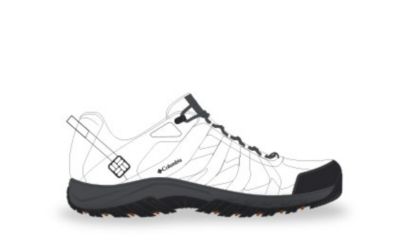 Can be worn on mostly flat and non technical terrain. They are lighter, so recommended for faster walks and for travelling as they usually are very versatile.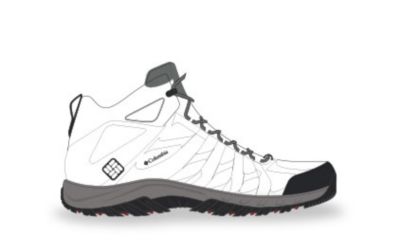 Can have the versatility of a low shoes but offer better ankle support.
Provide the best ankle support and protection you can get and are recommended for long hikes.
WHAT MATERIAL SHOULD I CHOOSE?
Both leather and synthetic have very different characteristics.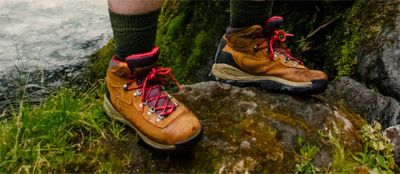 Leather walking boots offer a traditional look and are known to be more versatile are durable.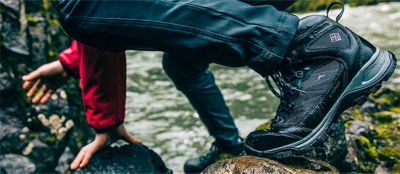 Synthetic walking boots are lighter and more flexible. Their welded construction mean there are less stitches so less chafing points. They also dry quicker when wet.
WEARING THE RIGHT SOCKS IS IMPORTANT IN PROVIDING THE RIGHT COMFORT. REMEMBER TO USE BREATHABLE MATERIAL TO AVOID TOO MUCH MOISTURE ON YOUR FEET THAT COULD CAUSE BLISTERS AND DISCOMFORT.
WHAT LEVEL OF WATER RESISTANCE?
The right level of water-resistance can make the difference between a great walk and an unpleasant one.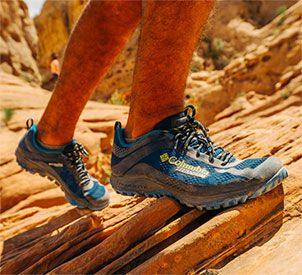 If you're used to walking in good weather exclusively, then your walking shoes don't have to have any kind of waterproof protection.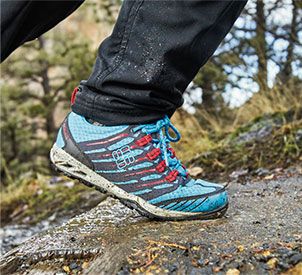 If you think a little drizzle is never too far away and prefer to have your feet protected against water in case the weather turns, opt for one of our pairs made of waterproof fabric.
If you expect a few showers during your walk or if you might be walking through puddles, you may want to opt for one of our
OmniTech™ walking boots
.Fully waterproof and breathable, they will prevent your feet from getting soggy.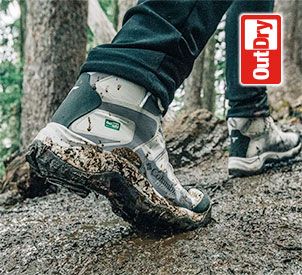 ABSOLUTE WATERPROOF CONSTRUCTION
For our best waterproof protection, choose one of our
OutDry™ walking boots
. With a waterproof membrane on the outside, they seal water out completely and avoid adding extra weight to the shoe. They are particularly recommended when walking through damp fields for instance.
CAN I USE RUNNING SHOES FOR WALKING?
A walking boot and a running shoe are built differentely for the simple reason that the motion of your feet when you walk or run are not the same.
Running shoes have more cushioning at the heel because that's the first part of the feet that touches the ground while running.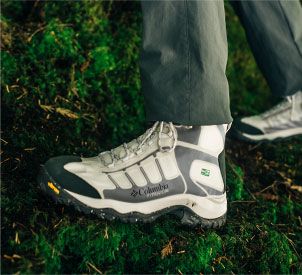 Walking shoes have more cushioning on the forefoot area to match the natural motion of the feet when walking.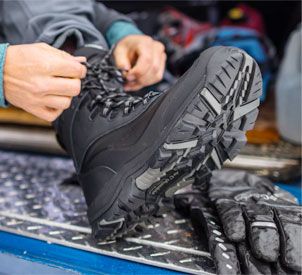 Walking boots also offer better grip, traction and balance and feature toe caps and better protection.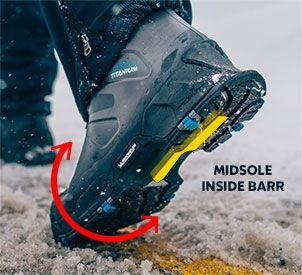 Walking boots are equipped with shanks (rigid piece of metal) and offer better support and protection from sharp rocks.
MOST OF OUR WALKING SHOES HAVE A REMOVABLE INNER SOLE FOR EASY CLEANING OR TO FIT IN ANY ORTHOPAEDIC SOLE.
HOW DO I MAKE SURE MY WALKING BOOTS WILL FIT?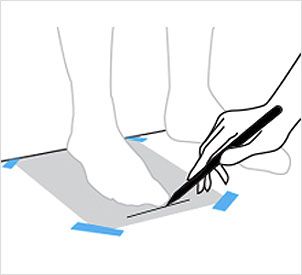 First, check the
size guide
and measure your feet. Use foot measurement and look at correspondance in UK or EU size.

Do not refer to the CM size on the box and the shoe.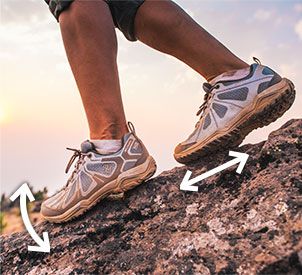 Make sure you have enough room for your toes. You should be able to move them freely.
When walking downhill, your toes shouldn't be touching the front of the shoe. Your feet should be maintained properly by the shoe.
When walking uphill, your heels should not have an up and down movement that will cause blisters and discomfort in the long run.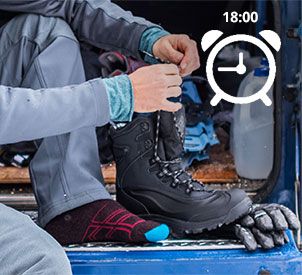 Feet tend to swell as the day goes by and as you walk so try your shoes in the afternoon or after a long walk.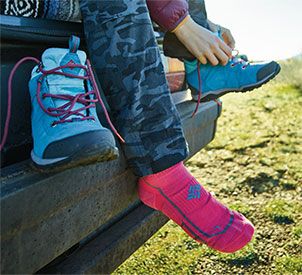 Try to wear the pair of socks you usually wear when exercising so you avoid any kind of surprises.
HOW DO I CARE FOR MY WALKING BOOTS?
Usually, a soft brush and a damp cloth will be enough to clean your walking boots.

For leather boots, you may add a waterproofing agent to protect them from any moisture.

Remember not to put them into a washing machine.
KEEP AWAY FROM HEAT SOURCES
To dry far from any radiator or fireplace.
A whole collection of walking boots for men, women and kids.